Performance by Grammy Award—winner
18 West 54 Street, New York
Honoring the 30th anniversary of the Black Arts Council and celebrating an enduring, visionary legacy for generations to come
The Black Arts Council is a community of patrons, philanthropists, collectors, and art enthusiasts dedicated to the elevated visibility, access, and appreciation for art and artists of the African diaspora at The Museum of Modern Art. Founded in 1993 by Dr. Akosua Barthwell Evans, Agnes Gund, and David Rockefeller, Jr., the Black Arts Council of The Museum of Modern Art evolved from the visionary Friends of Education—a trailblazing initiative to cultivate a more reflective audience at the Museum, fund acquisitions by Black artists, support educational programming around Black art, and create opportunities for Black artists and arts professionals at MoMA. 
The Black Arts Council continues its founding mission to strengthen the artistic tradition at MoMA by centering Black perspectives on modern and contemporary art that educate, inform, and elevate the canon across New York City and around the world.
Each year, the exclusive, members-only programming of the Black Arts Council—from gallery talks and curatorial walk-throughs of groundbreaking exhibitions to intimate studio visits with artists, private collection visits, and more—fosters opportunities for Black artists and their work and illustrates this community's unique ability to convene and champion emerging and iconic artists of African descent at The Museum of Modern Art.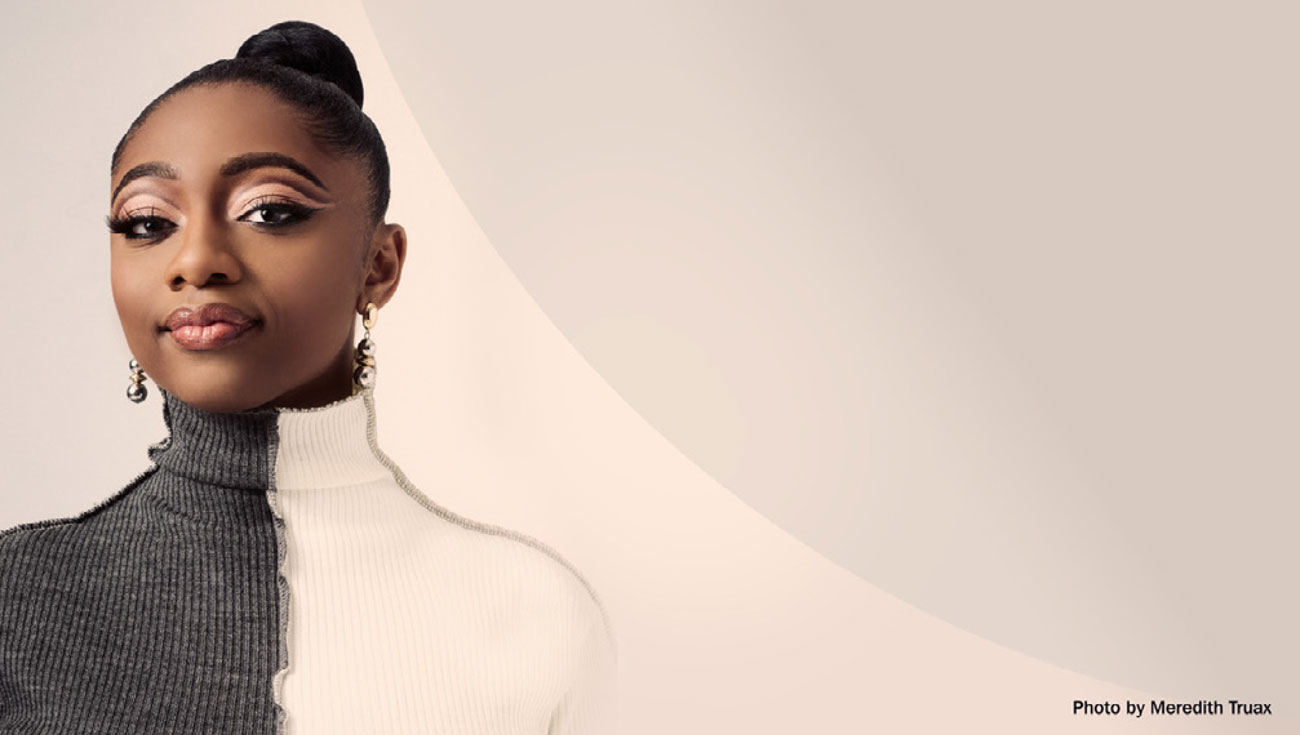 With her Grammy Award–winning Verve Records debut Linger Awhile, 23-year-old Bronx native Samara Joy joins the likes of Sarah, Ella, and Billie as the venerable label's next mononymous jazz singing sensation. Her rich, velvety, and precociously refined voice has earned fans such as Anita Baker and Regina King, while her broadcast appearances on the Today Show, The Tonight Show with Jimmy Fallon, and many others—along with millions of likes on TikTok—have cemented her status as the first Gen-Z jazz singing star. On Linger Awhile, Samara Joy introduces her massive audience to classic standards with her timeless, irresistible sound. The New York Times praised the "silky-voiced rising star" for "helping jazz take a youthful turn" and NPR's All Things Considered named her a "classic jazz singer from a new generation." In February 2023, Samara Joy took home two Grammys, winning Best Jazz Vocal Album and the auspicious Best New Artist award. www.samarajoy.com
Visionary
Agnes Gund
Leader
Kathy and Richard Fuld
David and Susan Rockefeller
Benefactor
Katherine Farley and Jerry Speyer
Patron
Fashion Fair Cosmetics
Gladstone Gallery
Amy Goldrich and Nick Kline
Alvin D. Hall
Bernard Lumpkin and 
     Carmine Boccuzzi
Michael Rosenfeld Gallery LLC,
     New York
Olivier Cheng Catering and Events
Dian Woodner
Premium Supporter
Sarah Arison and Thomas Wilhelm
Edith Cooper and Robert Taylor
Lonti Ebers and Bruce Flatt
Hauser & Wirth
Thelma and AC Hudgins
Pamela J. Joyner
Laurie M. Tisch Illumination Fund
Moët Hennessy
Paula and Michael Price
Katie Adams Schaeffer
Supporter
Derrick Adams and
     Michael Chuapoco
Kenneth Alleyne, MD
Maria Arnone
Storm Ascher,
     Superposition Gallery
Dr. Elaine Barfield
Karole Dill Barkley and
    Eric J. Barkley
Sherry B. Bronfman
Dr. Tina Brower
Ginger McKnight-Chavers and
Kevin G. Chavers
Alexa Donaphin
Rick Donner and Bob Logan
Trudy Erwin
Waldo and Rita Falkener
Keith Fox
Gagosian
James and Ysabella Gara
Jennifer Grubman
Bennet H. Grutman
Jonathan A. Grutman
Justice L. Priscilla Hall, (Ret.)
Barbara T. Hoffman, Esq.
Phyllis Hollis
Noel Kirnon
Kelli Lane
LaJwanne and DeWayne Louis
Marianne Boesky Gallery
Areva Martin, Esq.
   President and CEO,
   Special Needs Network, Inc.
Kendall Messick
Jacklyn Monk, Junebug Ink
Michelle Morris Weston
Ruthard C. Murphy II
Isobel Neal
Randall Pinkston
Elizabeth Fearon Pepperman
Marquita Pool-Eckert
Diane Rodriguez
Isabelle Sajous
Frances Savage
Daryl Shore
Marsha E. Simms
Shamina Sneed
Jennifer Streaks
Ryan Tarpley
Richard Torres
Hannah Traore
John David Treadwell
Reginald Van Lee
Nicola Vassell
Verve Records
Emmett and Jamie Watson
Teresita C. and William T. Whitaker
Dr. Danielle Williams
Yamaha
Listing as of March 24, 2023
In-Kind Donors
THE CRISTALLINE
Diptyque
Fashion Fair Cosmetics
Golde
Hella Cocktail Co.
Mast Market
PATTERN Beauty
   by Tracee Ellis Ross
Ruinart Champagne and
   Moët Hennessy
Tribe & Oak